Qatar Airways HQ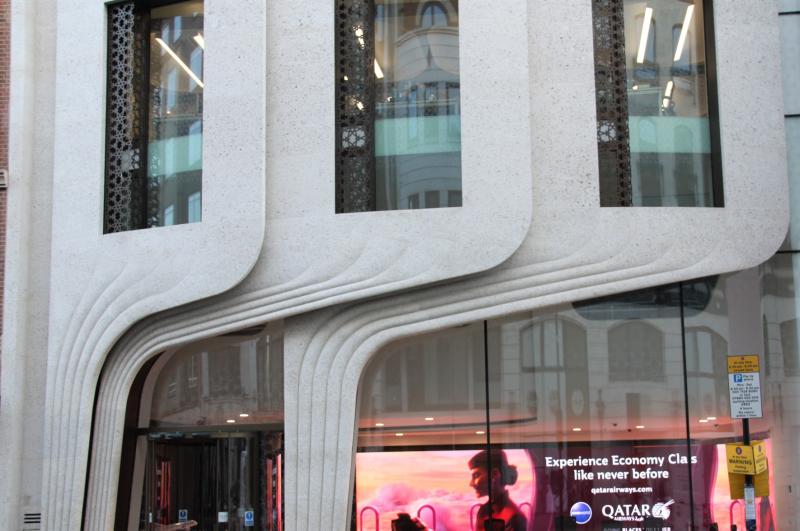 PLP Architecture's new London headquarters for Qatar Airways at 10-11 Conduit Street in Westminster show the level of sophistication that the UK stone industry can deliver when it is asked to.
The stone was sawn, worked and supplied by Cadeby Stone in Doncaster, South Yorkshire. It was installed by stone specialist Grants working with Mace, the main contractor.
The new five-storey building integrates offices and a retail showroom. Hand-patinated bronze recesses separate and contrast with the feather-shaped elements of the stone, worked on Cadeby's Donatoni five axes CNC and finished by the masons at the Cadeby Stone works.
The windows have deep reveals appropriate to add further shadow and interest to the façade, which is so appropriate to the use of stone. The stone is fitted back to a concrete frame in the shape of the façade, which is only about 250m2 but manages to exude a major significance through the design and execution of the stonework. Expect awards to fly in.
The selection process of the Portland stone used was specific. Blocks were chosen and shipped to Cadeby's works where they were opened out and lined up for inspection by the project team. They were classified as lower floors or upper floors (or rejected). The shell and void mix was highly selective, creating a sophisticated and smooth transition across and up the building.
As Michael Adams of Mace says: "The result is truly stunning."
News article from; https://www.stonespecialist.com/news/natural-engineered-stone-company-news/cadeby-flying-high-qatar-airways-building